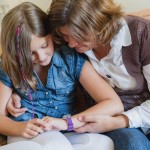 Children with dyslexia, dyspraxia and many on the autistic scale may struggle to learn to tell the time easily. They especially have problems telling the time on a clock with hands.
It may be that you can tell whole hours and half hours but not smaller chunks such as 8:04. People with S.E.N. might find it difficult to distinguish between the minute and hour hands. Also concepts such as 'to' and 'past' on a clock might be confusing.
As a parent, there are several ways you can help your children to learn to tell the time:
Make your child the 'official time keeper' – Ask at frequent intervals what the time is in order to keep them practising
Avoid using phrases such as 'in a minute' or 'just a second' when speaking to your child; this might be confusing for them when they are learning
Our EasyRead watches and clocks are clear and colourful with a large dial showing every detail your child needs. Our simple yet effective three step teaching system makes it easy for children to learn to read the time in terms of 'minutes past' and 'minutes to' the hour. Our equally as effective two step system teaches children how to tell the time digitally.
Feedback from our customers indicates that our EasyRead clocks and watches really helped their S.E.N. children to learn how to tell the time.