Help your students learn to tell the time with our
Classroom Resources
Our Range
Choose your Classroom Resources
EasyRead classroom clocks are perfect for daily use at school – your children will quickly learn to tell the time with regular practice. Add in a Playground Clock and class sets of Teaching Aids and you have a consistent approach to teaching time across the school.
Simple step by step teaching methods

Integrated range of resources

Consistent approach throughout the school
Choose your method
Past & To Method
If you express the time as "8 minutes to 2" teach your child the past/to method.
Read the number at the end of the long hand.
Say which side the long hand is pointing to (past or to).
Read the number of the end of the short hand.
Shop Products
12/24hr Method
If you're more familiar with saying "One Fifty Two" teach your child the 24 hour method.
Read the number at the end of the short hand.
Read the number at the end of the long hand.
Shop Products
Teachers - we have the time teaching-solution you've been looking for!
EasyRead Time Teacher Clocks and Teaching Aids are the perfect resources to help you guide your pupils through the tricky curriculum subject of time.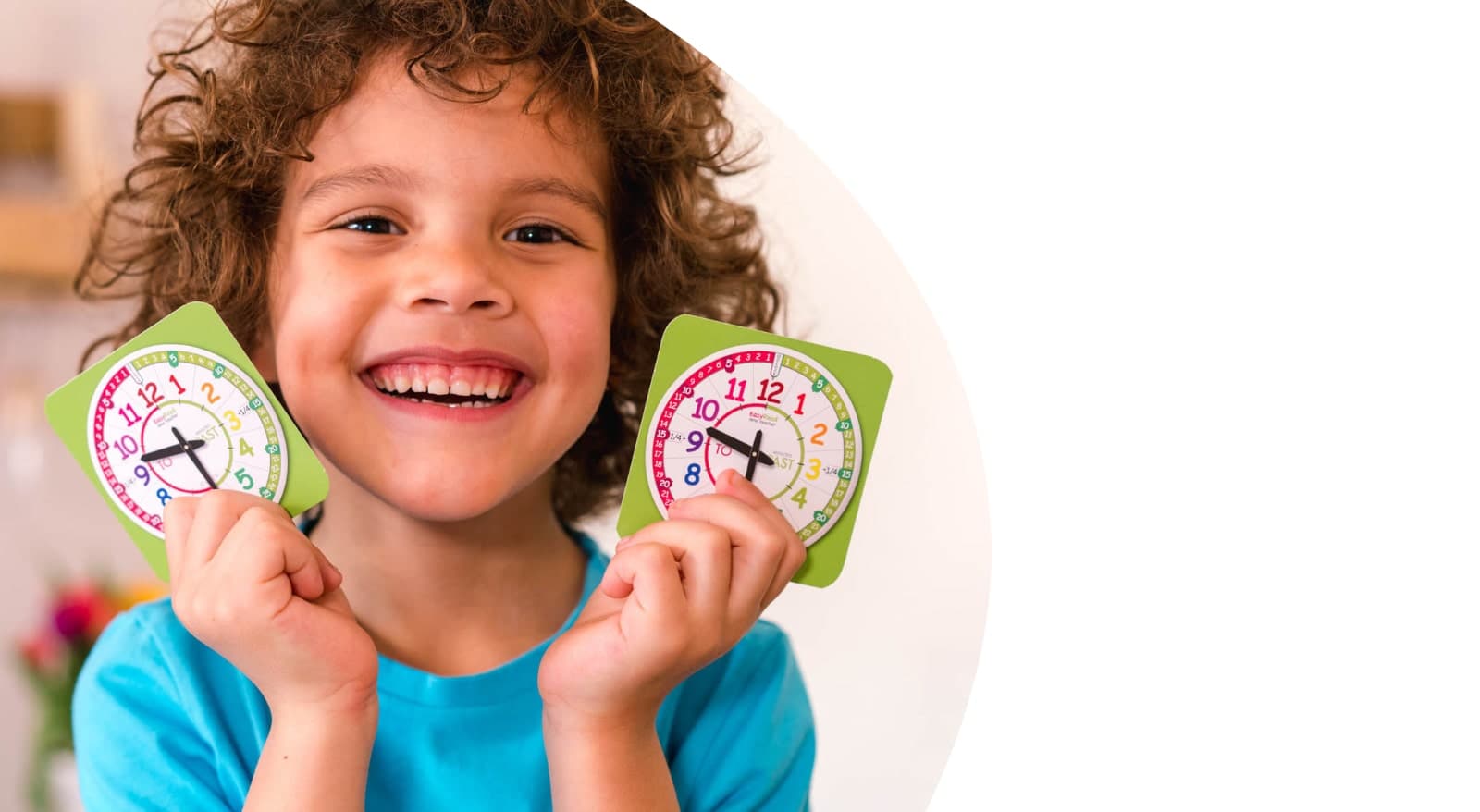 Take their word for it

Just add practice and a smattering of encouragement!

This has been brilliant. My 6 year old daughter wears it proudly every day and loves telling us the time. Very simple to use and learn. Just add practice and a smattering of encouragement!

- LP, 4th April 2019

Take their word for it

I have put a EasyRead Time Teacher clock in each classroom.

Not only can the children use them really effectively but they also look great. As a specialist provision it was really important that the clocks did not look childish. These clocks were better than I originally thought.

- LS, 19 Oct 2018

Take their word for it

Fantastic product.

Love it! Fantastic product. Such an easy to understand face, labelled on one side as "past" and the other as "to". Simple instructions had my wee boy telling the time within minutes!

-TC, 13th Sept 2018
Your Classroom Resources has
27 years of refinement
First design in '92
Inventor and founder, Roger Shackleton (winner of an Australian Design Award), brought this novel idea to life after having a tricky time teaching his daughters to use regular analogue clocks. Roger's first designs were created back in 1992.
Launched in UK & Australia
Things really kicked off in 2011 when the business first launched on Sydney's Northern Beaches. 'Theme Time Australia', as it was known then, was featured on the popular show 'Good Morning Australia'. In 2012, Roger's sister, Sue Shackleton, joined him to develop the business in the UK and Europe. EasyRead Time Teacher was born in 2013.
Going global
Today, our clocks, watches, games and classroom resources are available across Europe, Australasia and North America. We are passionate about making these skills accessible for every child around the globe, so you can now purchase our products from Amazon, eBay and a growing list of other outlets.
Proven by parents & children in 20+ countries worldwide
Give the gift of time today
Keep up to date
Join our mail list and receive occasional news and offers from EasyRead Time Teacher.
We hate spam too and we promise we'll never share your email with third parties.