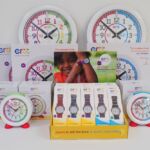 Are you struggling with how to tell the time as an adult? Whether you have always struggled with telling time or you want to improve your time-telling abilities, then our resources are here to help you master this essential skill. We understand the importance of clear and simple time-telling methods, and our range of time-teaching watches, clocks, and innovative aids are designed specifically to help adults learn how to tell the time.
How to Tell the Time as An Adult
Learning to tell the time can be a daunting task, especially for adults who may have missed out on mastering this skill during their childhood years. Here at EasyRead Time Teacher, our team recognises this need and offers a range of specialist resources designed to support adult learners. Whether you prefer a traditional clock, a stylish watch, or interactive games and aids, EasyRead Time Teacher has you covered.
Clocks
Our EasyRead clocks are the perfect addition to any kitchen, office, or living room, and with their sleek design and range of colours, our clocks blend into any interior decor. So, whether you prefer a classic white clock or a vibrant red one, there is a clock to suit your personal taste, and with their silent sweep motion there is no distracting ticking sound, allowing you to focus on telling the time without any unnecessary noise.
The unique design of the clock contains all the information you need, ensuring that you can easily read the time at a glance. The large, clear numbers on the dial make it easy for adults to distinguish between the hours and minutes, eliminating any confusion that may arise from more complex clock designs, and our clocks are available with either the 'minutes past and to' or '12 /24 hour' method, depending upon which method you are most comfortable or familiar with.
Explore our range of wall clocks and alarm clocks and pick the best option for your unique requirements.
Watches
For adults who prefer a more portable time-telling solution, our EasyRead watches are the perfect choice. Available in a wide range of colours, with the option of a fully waterproof model, EasyRead has a practical and stylish watch to suit every individual's taste and requirements. With easy-to-use, adjustable straps, you can adjust the strap to fit your wrist comfortably, and swap them for different colours depending upon your outfit. The straps are also easily changed, allowing you to switch between different colours and patterns to match your mood or outfit, and with up to medium adult size, these watches provide a comfortable fit for most individuals.
The watch face itself is designed with simplicity and clarity in mind. The large, bold numbers make it easy to distinguish between the hours and minutes, ensuring that you can accurately read the time, and the clear labelling of "past" and "to" also helps adults understand the concept of time progression, making it easier to interpret the exact time displayed on the watch.
Master this essential life skill with our range of EasyRead watches.
Games & Aids
Sometimes, a little extra practice and reinforcement can go a long way in learning how to tell the time as an adult. We offer a range of interactive resources, games and aids, that are specifically designed to make the learning process fun and engaging to help reinforce your understanding of time-telling concepts and improve your overall proficiency.
One of our most popular games is the Tell The Time Card Game, which combines the fun of a traditional card game with the educational aspect of learning to tell the time. These cards can be used to play various games including snap, matching pairs, and bingo, so you can get the whole family involved. Each pack contains 60 playing cards showing the different times of day and by matching the digital and analogue times on the cards, players can improve their ability to read and interpret different time formats, making them a versatile tool for adult learners.
In addition to our Tell The Time Card Games, we also offer TwinTime Cards to support adults in their time-telling journey. These aids are a hands-on, double-sided teaching resource that features a Past & To dial on one side and a 24-hour time dial on the other side, with moveable hands on both sides. These cards are made from wipeable PVC and have a space below to write the time displayed on the clock, designed to provide additional practice and reinforcement and are also a great tool for practising fractions and counting backwards if this is an area in which you could benefit from additional practice or support.
We understand that every individual learns how to tell the time differently, which is why our games and aids cater to various learning styles. The visual nature of these aids helps adults develop a stronger understanding of time-telling concepts and enhances their ability to read and interpret different clock formats, so no matter your preferred method of learning, there is an EasyRead game or aid that can help you on your time-telling journey.
Explore our range of games, aids, and resources today.
Learn How to Tell the Time with EasyRead Time Teacher
Learning how to tell the time as an adult does not have to be a complex or daunting task. With our range of specialist resources, you can confidently improve your time-telling abilities and master this essential skill with the tools you need to succeed, so embrace the simplicity and clarity of our innovative solutions today.