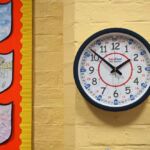 Anyone who works in education will appreciate that the start of a new term is a busy and chaotic time. All of your energy needs to go into supporting the needs of your students (many of whom will be new to you this year) and settling back into academic life for another jam-packed term. You might not feel as though your workload is any lighter at the end of the academic year, but if you do have a few minutes to spare then now is the perfect time to sort out your classroom resources, such as a teacher clock and time teaching aids, ahead of the rush at the start of the new school year.
3 reasons why it's a great idea to order your teacher clock now
1.You can have your first choice of size, colour and design
Whilst we do our best to keep everything in stock, the start of term is a popular time so to make sure you can get the exact teacher clock you are looking for, we recommend ordering it before you break up for the summer. We've got a wide range of teaching clocks available including:
35cm Classroom Clocks – choose from either our Past and To or 12 & 24 Hour method of teaching time and a red and blue or rainbow clock face.
Welsh Classroom Clocks – featuring either our Past and To or 12 & 24 Hour teaching method. Choose from a red and blue or rainbow clock face.
Playground Clocks – a larger version of our classroom clock, featuring a robust, weatherproof design and toughened glass. This clock comes with a black and white face and you can choose from our two time teaching methods.
Classroom Sets – featuring a classroom clock, teacher cards and student cards to help you devise time teaching lessons and get students to practice telling the time.
2.You can start to prepare lesson plans to feature your teacher clock
It is said that teachers spend around one third of their working time planning lessons. With this in mind, wouldn't it be great to get ahead now and start planning your September time teaching lessons knowing that you already have all the resources you'll need? By ordering your teacher clock, playground clock or classroom set now, you can get a feel for the resources and start planning your lessons around them, to ensure students get the most from them and that you feel prepared.
3.You can tick one more thing off your list and enjoy your summer break!
Part of your new academic year planning will involve setting up the classroom environment, so if you already have your teaching clock ready to go, you can simply find the perfect place on the wall as you set up your displays ready for students to return in September. Having a clock as the focal point on a wall will help you to create the optimal classroom layout so that all students can see the clock and it may also help you to plan the resources and information you are going to display around it, aiding you to create the best learning environment.
So, tick a few things off your list now – order your classroom clock here and be one of those teachers who is smugly prepared come September!