With the summer holidays hurtling by, now is the perfect time to get ahead of the rush and get your child ready to go back to school. Once you've ticked off all the essentials, such as uniform, shoes, PE kit, bag and pencil case, it's time to turn your attention to the little things that can make a difference to your child's education. We're talking, of course, about our children's watches.  
Designed by parents to provide a simple time teaching system that helps children tell the time independently, our watches are not only educational but very stylish! Read on to find out more about the styles that we offer to accommodate children's preferences. 
Children's watches for kids who love to coordinate
If a child loves to colour coordinate their wardrobe, or feels very proud about their new school uniform and everything it stands for, then they might appreciate a time teaching watch that fits in with their overall colour scheme. 
We've got time teaching watches with a range of plain coloured straps that are perfect for matching with school uniforms. Here are just a few of our ideas below.  
For a school uniform featuring a red jumper or cardigan you can coordinate with our red and blue face time teaching watch with a red strap: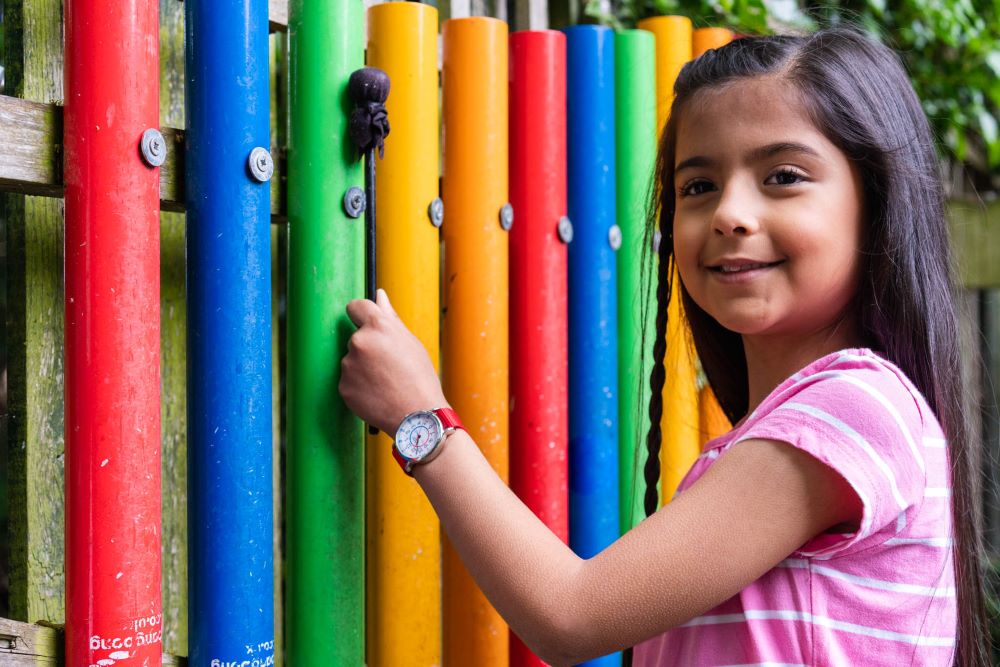 For a navy school uniform, try our red and blue face children's watch with a navy strap: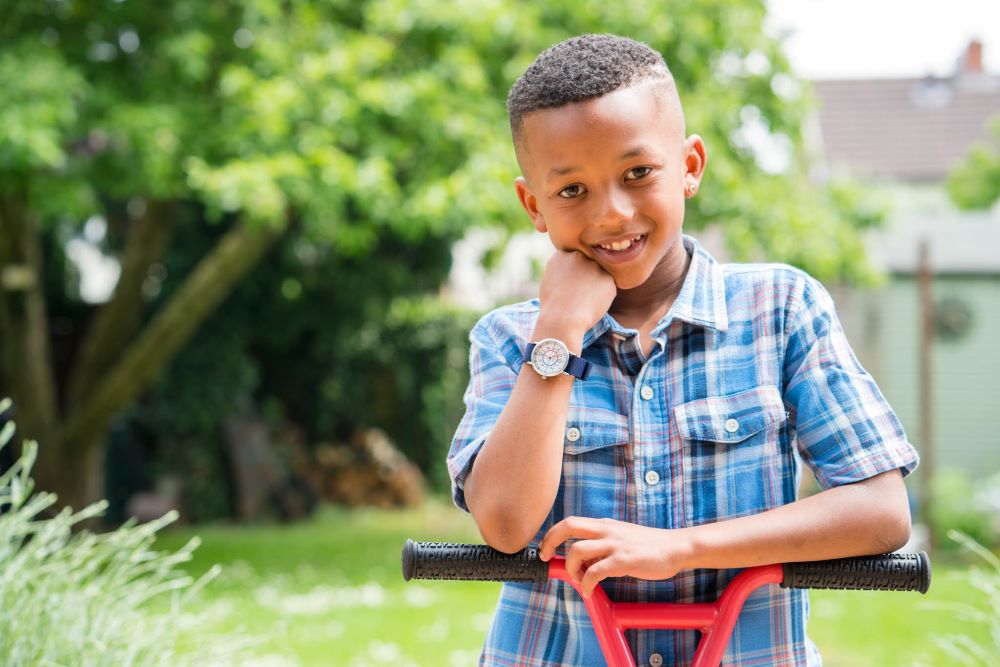 If you are worried about bright colours or strict uniform codes, why not shop for our simple grey strap time teaching watch with a red and blue face?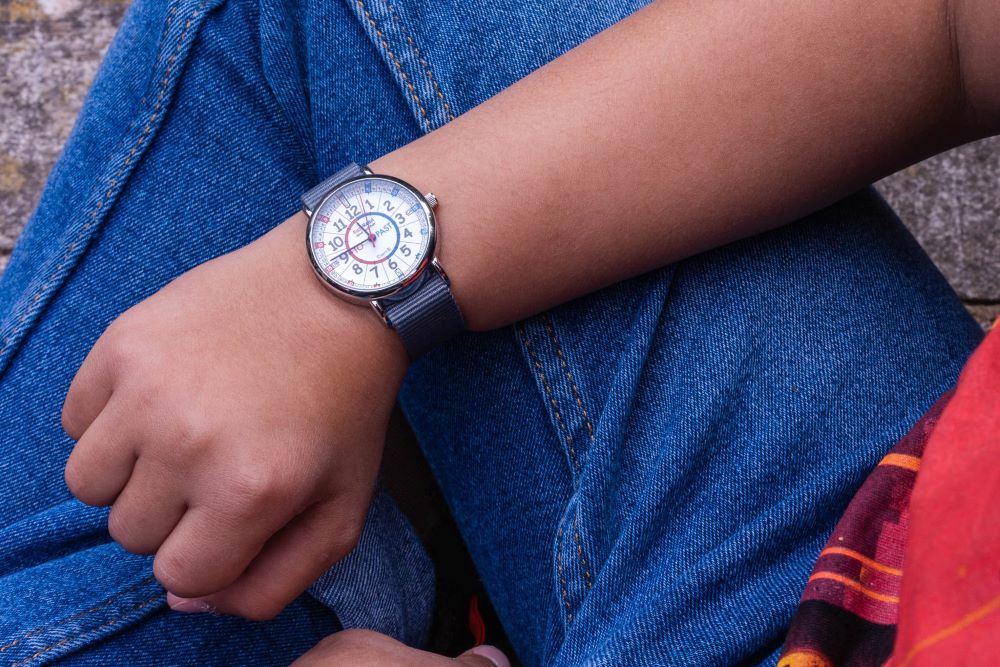 Children's watches for those who like to stand out from the crowd
For those children who love a splash of colour or who are just dying for others to notice their new accessory, why not shop for our more colourful range of watches for children? 
Choose from styles such as our rainbow face watch with a lime green strap: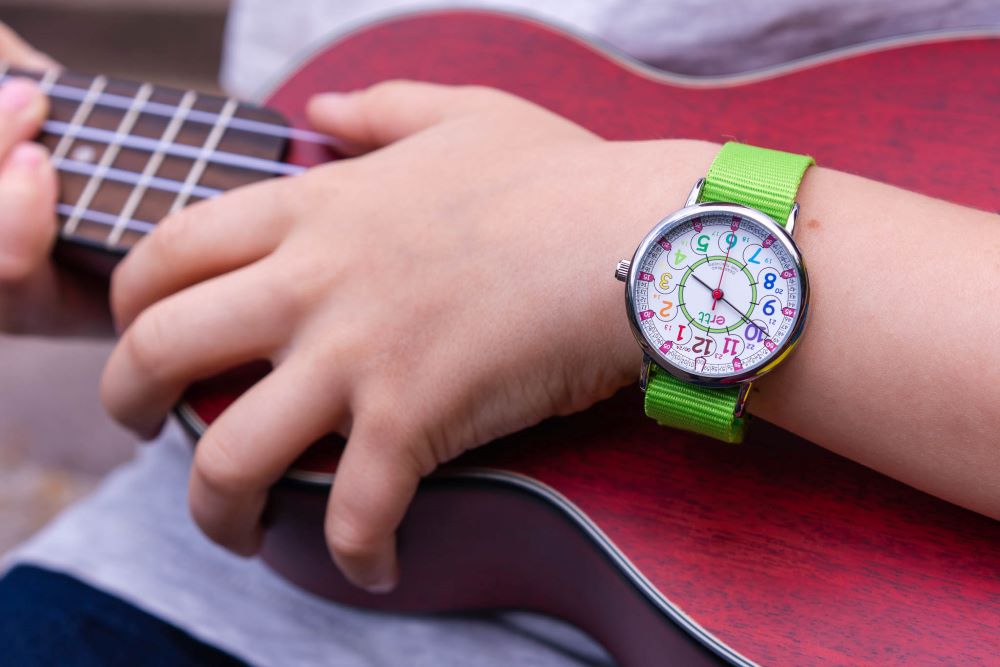 Or how about this colourful time teaching watch with a hot pink strap?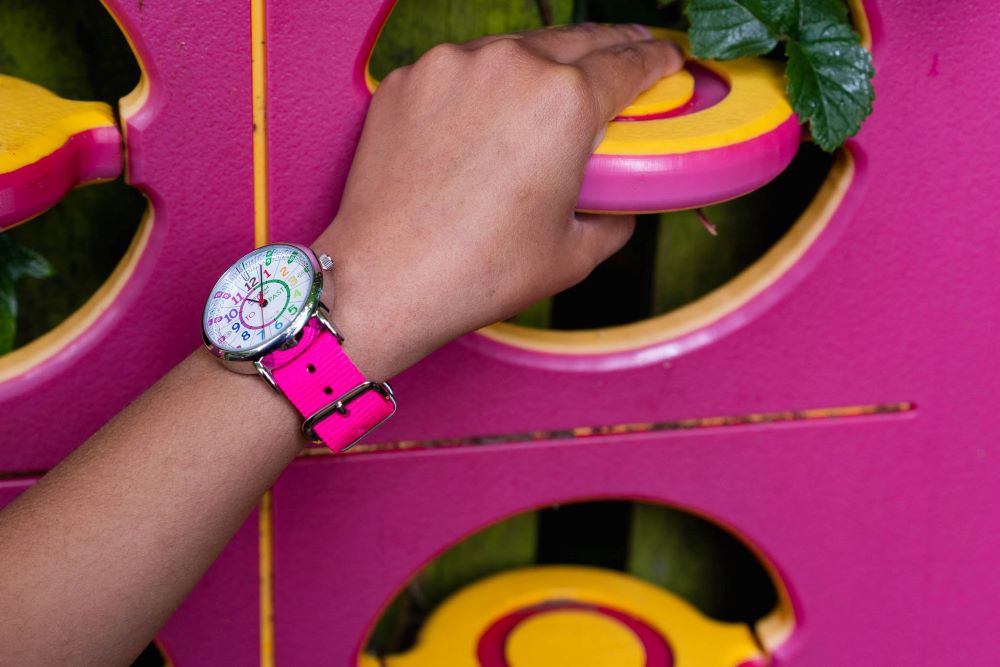 Watches for little explorers 
We all know how much some children love to explore, so if they are into outdoor activities they'll love wearing one of our camouflage watches on their wrist. 
Everyday at school can be a new exciting mission with our black face watch with a green camouflage strap: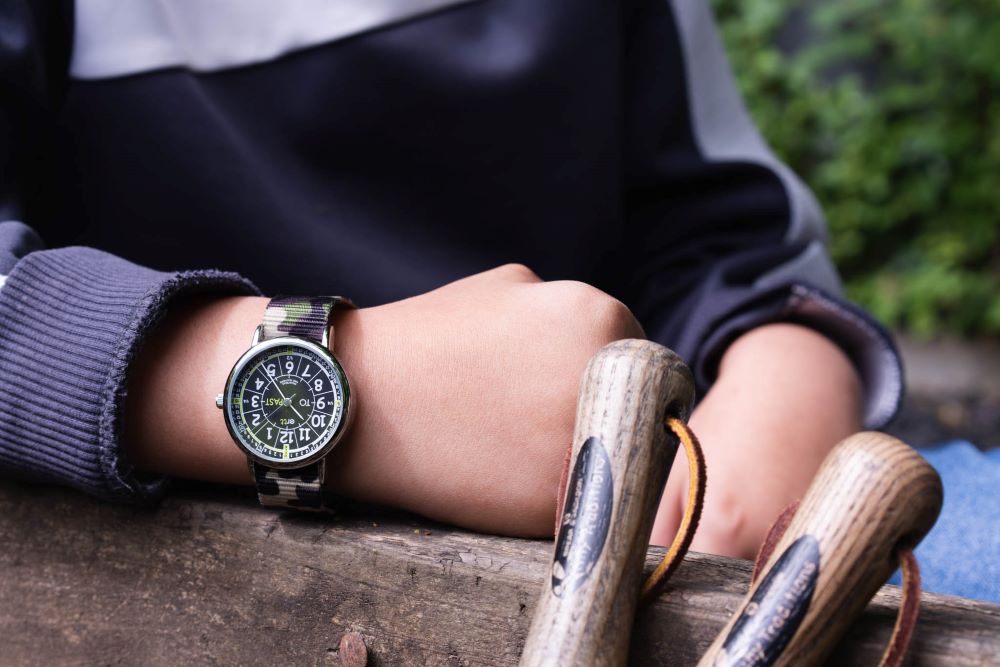 When choosing children's watches for lovers of all things blue, you can't top this white face watch with a blue camouflage strap: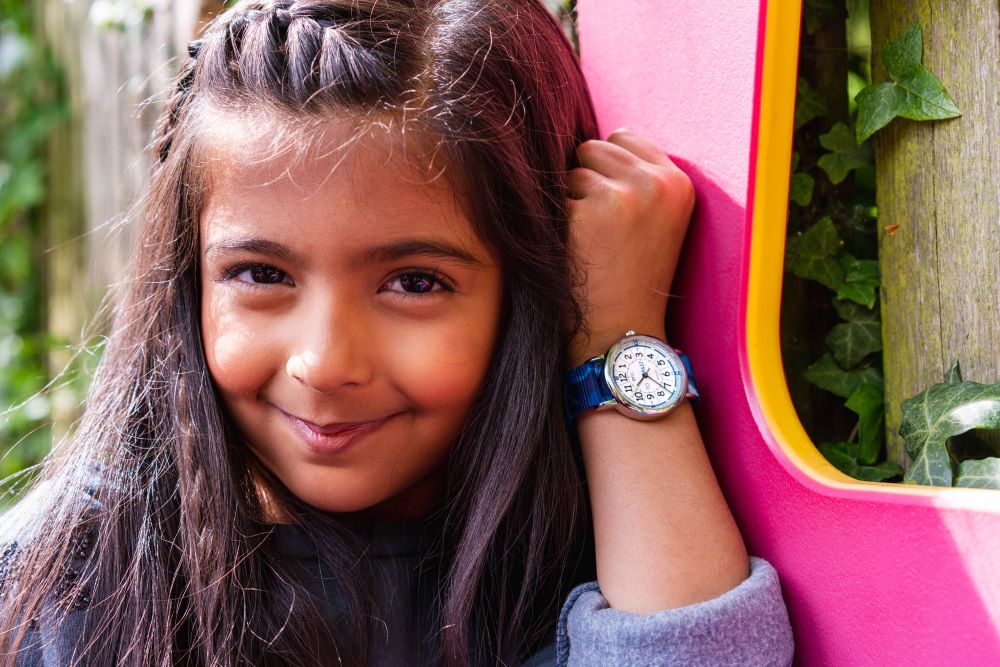 Watches for children who love the water
We all know how easily children are drawn to water, so if the child you are buying for is likely to be splashing around in a water pit or rainy puddle whilst they're at school then you might like to know our time teaching watches are also available in waterproof designs. Suitable for all water-based activities and waterproof up to 50 metres – making them a great choice for any child who will be swimming as part of their school day but unlikely to remember to take their watch off! 
Choose from a red and blue face waterproof watch with a navy strap: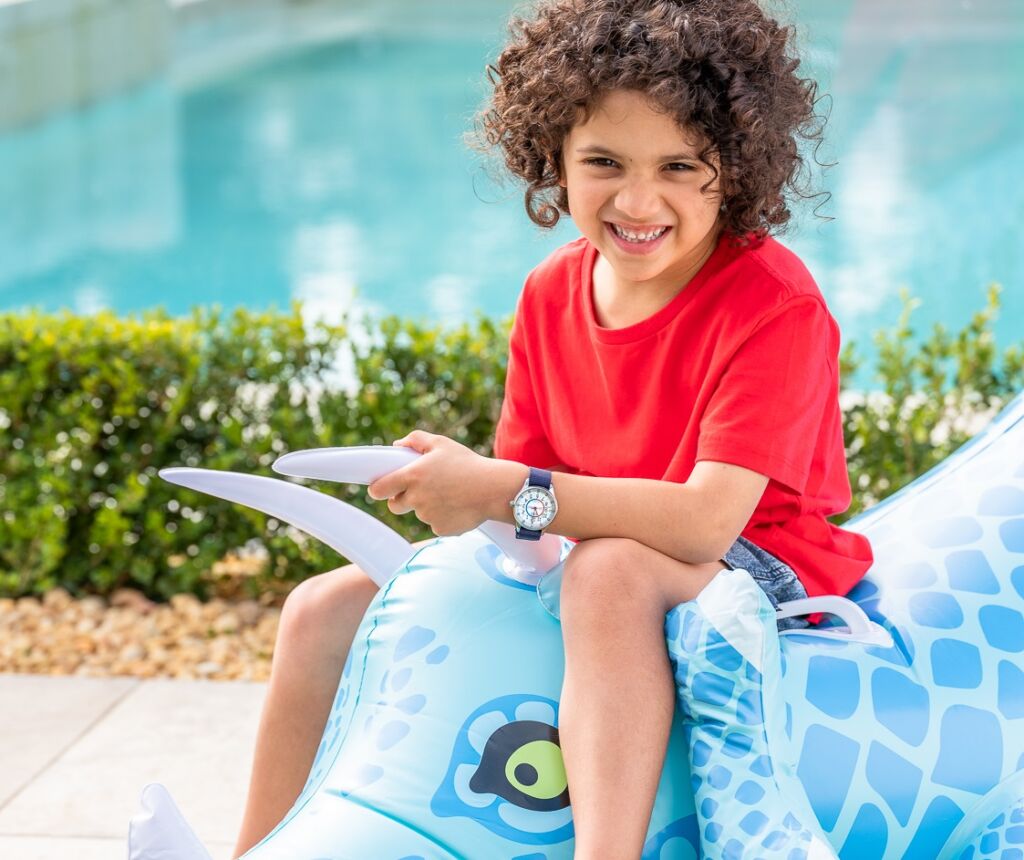 Or, this colourful rainbow face waterproof time teaching watch with a purple strap: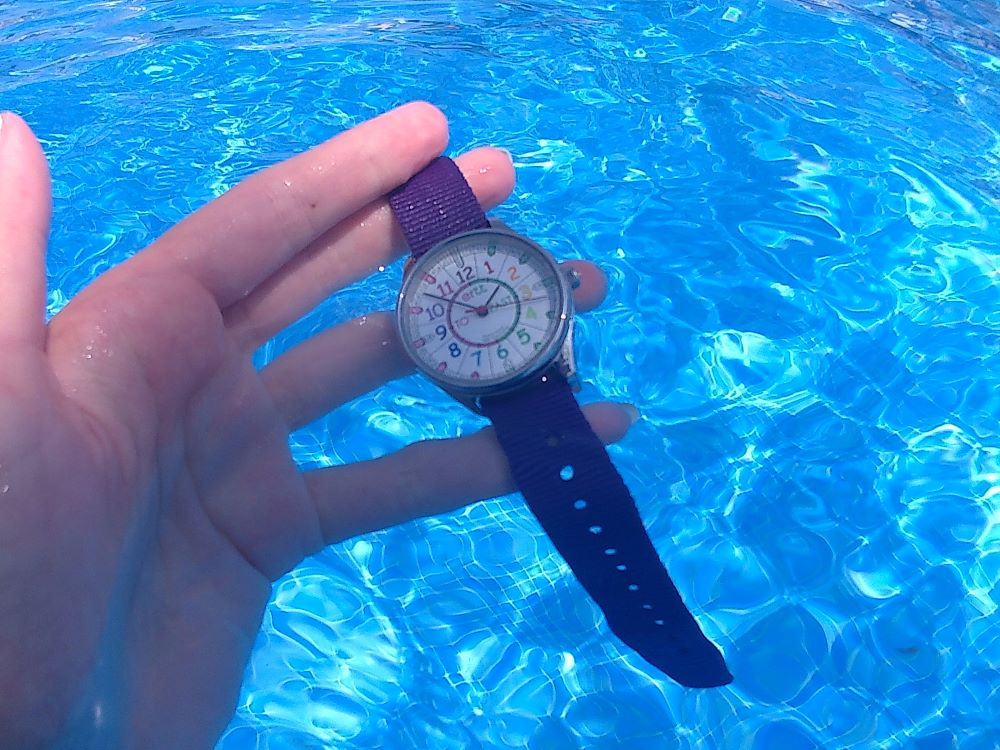 Hopefully, we've got a watch to suit every child's preferences, but just in case they get bored with their current design or you want to upscale a hand-me-down EasyRead watch, we also offer a range of coloured watch straps. Choose from black, blue, green, orange, yellow and our camouflage designs to name a few. 
If you need any help choosing a design or want to know which time teaching method is right for your child, please get in touch.  
Happy back to school shopping!