There are many things that we teach our children, whether it is supporting them through their learning at school or helping them to discover new interests at home.  The one thing we are passionate about here at EasyRead is helping children to learn to tell the time.  We have developed a time teaching system that is simple, easy to use and can have children telling the time quickly and confidently.
Teaching children about the concept of time
Whilst our products have been developed to help children to learn to tell the time, they can also support children in learning other important lessons and skills – such as when is the right time to go to bed and get up in the morning.  Nothing does this better than our time teaching alarm clocks.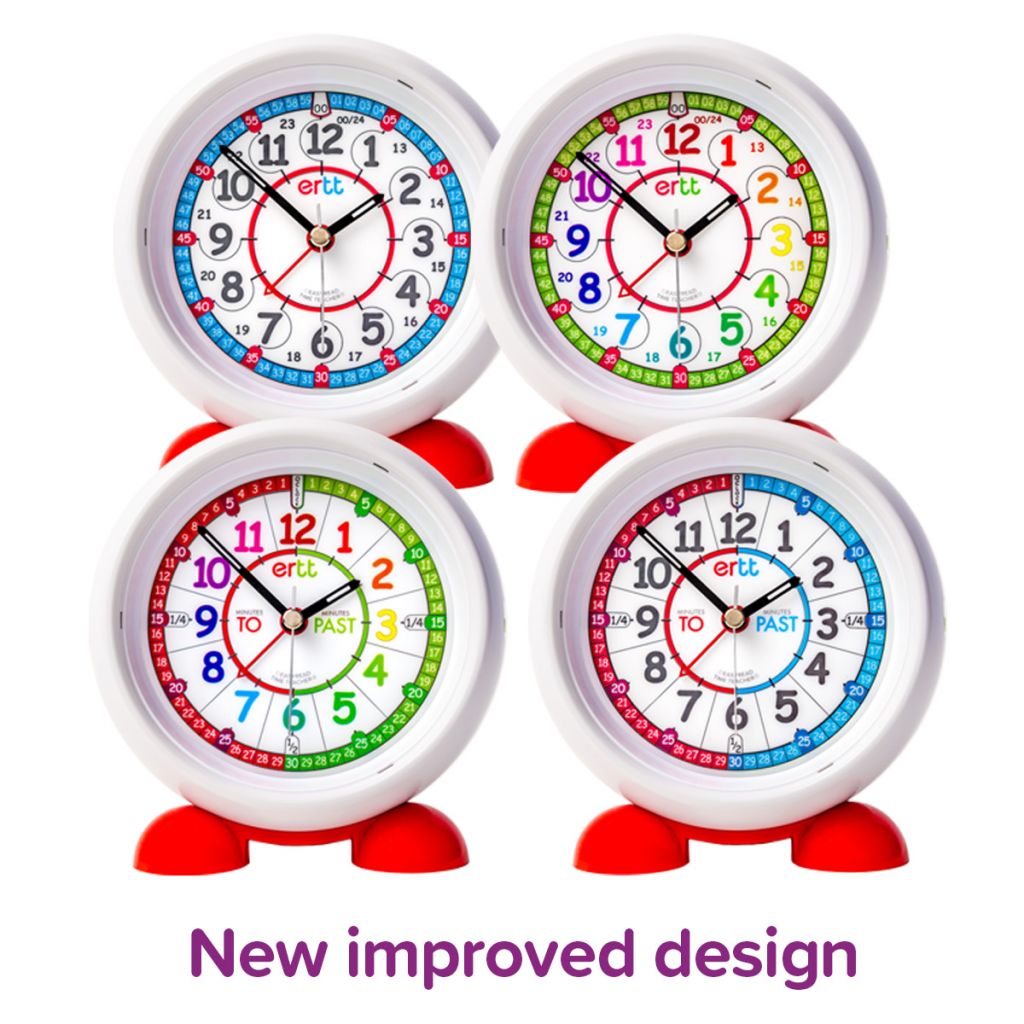 Our alarm clocks have been designed to help children to learn to tell the time and to be able to practice their skills before they go to bed and when they wake up in the morning.  
Main features of our new time teaching alarm clocks
Featuring silent hands and a built in night light, our alarm clocks are the perfect companion to any bedside table and the crescendo alarm is the best way to wake sleepy heads up in the morning!
You can choose from one of our two time teaching methods:
Past and To

– express time as minutes to and minutes past the hour – e.g. "10 minutes to four"

12 and 24 Hour

– express time in numbers on a 24 hour clock – e.g. "three fifty"
You can also choose from a rainbow or red & blue clock face, to suit your child's bedroom or colour preferences.
Our alarm clocks require 2 x AA batteries, which are not included, so just make sure you have some ready for when your clock arrives so your children can practice their time telling skills without delay.
What customers are saying about our alarm clocks
Our alarm clocks make the perfect learning resource for children who have recently started school:
"My grandson LOVES his clock. It glows softly at night and has a brighter light when needed. We don't need the alarm at this time, but it works wonderfully. He is 5 and this has prompted him to begin asking questions about time. The size is perfect for his bedside shelf. I would recommend this clock to anyone with a young child getting ready to enter school."
When will they be available?
From mid October 2020 our new look time teaching alarm clocks will be available to purchase in the UK, Europe and North America, following a successful relaunch in Australia in September.
Please click here to browse our alarm clocks and place your order.