Teaching children how to tell the time can be a long and arduous process which can really test your patience. Countless "What's the time?" questions can be exhausting, but we have the answer. EasyRead Time Teacher has designed a successful step by step system which will enable you to easily teach any child how to tell the time.
Have a go yourself and see how easy the three-step teaching system for 'minutes past and to' the hour really is.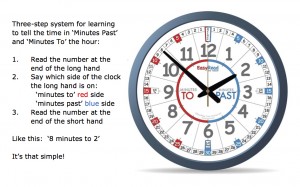 This EasyRead clock face is available as a silent wall clock for home or school, or as a wrist watch that children can take anywhere.
Click here for the wrist watch
Now you won't have to struggle with teaching your children how to tell the time – EasyRead Time Teacher makes it as easy as 1 2 3!