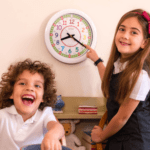 Are you or your little ones having trouble with how to tell the time on a clock with hands? With screens and digital devices dominating our daily lives, it's no surprise that analogue clocks can be confusing in the digital age. It's not uncommon for children to feel confused and frustrated by analogue clocks, and for learning how to tell the time to become a daunting task. That's why, at EasyRead Time Teacher, we offer a range of clocks, watches, and fun games designed to make learning to read analogue clocks much easier for children and adults alike.  
Analogue time-telling challenges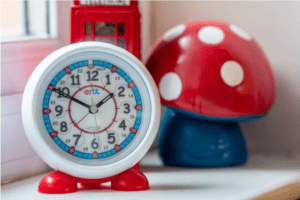 In today's digital age, children and adults are surrounded by screens and digital devices that display time in a digital format. The unfamiliarity with analogue clocks can lead to confusion and frustration, making it difficult for children to grasp the concept of time once they begin to learn how to tell the time in nursery or primary school. Any confusion or challenges children face can be made worse if their parents experience confusion when using an analogue clock. As many adults rely solely on their phones to tell the time, and don't often use analogue clocks, it can be confusing for them to return to analogue clocks to support their children's learning. As a result, the concept of reading time on a traditional clock with hands can be a challenge, but it remains an essential life skill.  
The most common, and potentially the most confusing, challenge that children face when learning how to tell time is the use of numbers and divisions on the clock face. Unlike digital clocks that display the time in a clear, straightforward manner, analogue clocks require children to tell the time themselves. Digital clocks show only the time, and don't contain any additional numbers that can cause confusion, whereas analogue clocks require children to interpret the position of the hands in relation to the numbers on the clock face. This can be a cognitive hurdle for many children, as it requires spatial reasoning and the ability to mentally divide the clock face into segments.  
Another complex challenge children face when reading the time is understanding the relationship between the hour and minute hands. The varying lengths of the hands and their distinct movements can be confusing, especially for young children. It can also be hard for them to identify which hand is which, as the majority of clock designs contain hands of the same colour which can cause the hands to appear as similar lengths to each other. Additionally, the minute hand's continuous movement can be overwhelming, making it hard for children to determine the exact time, particularly if the hand moves gradually rather than jumping between the minutes.  
The digital age has undoubtedly played a role in exacerbating these challenges. Children are constantly exposed to digital clocks on their electronic devices, which provide an instant and precise representation of time. However, this reduces an understanding of time to four simple numbers on a screen, rather than requiring a working understanding of the passage of time and how the key components of a clock work together to demonstrate the time. This stark contrast to analogue clocks can make it difficult for children to understand why analogue clocks are still relevant and necessary to learn. 
Overcoming time-telling struggles with our clocks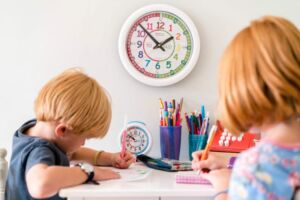 We offer a range of innovative clocks specifically designed to help children and adults overcome their struggles with reading analogue time, and these are useful resources that can be used by the whole family. Our wall clocks and alarm clocks feature a unique design and a combination of design elements that simplify the process of telling time, making it more accessible and less daunting to learn how to tell the time.  
Clear numbers 
One of the key features of our clocks is the clear and distinct labelling of the hour and minute sections of the clock. There are two key sections of the clock, with an inner ring showing the hours, with the hour hand clearly embedded within this ring to clearly show the time. The second, larger ring runs around the edge of the clock, and breaks up each minute into clear sections. This separation between the different hands helps children and adults differentiate between the two and makes it easy to visualise and understand their respective functions.  
Past and to design 
Our EasyRead clocks also feature a unique "minutes past" and "minutes to" design at the centre of the clock face. Instead of relying solely on numbers, these clocks use the phrases "minutes past" and "minutes to" to indicate the time. This approach helps children understand the concept of time progression and the relationship between hours and minutes. Subtle markers for the quarter hours, as well as an "o'clock" reminder at the top of the face, complete this comprehensively scaffolded design.  
By using phrases rather than numbers, children can develop a more intuitive understanding of time and its progression, making it easier for them to articulate the passage of time rather than simply reading numbers that they may not fully understand. As well as the "minutes past & to" method, our clocks are available with the "12/24" hour option as well, depending on the preferences of your child, yourself, or the whole household. These designs include all 60 minutes of each hour, and the 24 hours of the day rather than the initial 12 on our "past & to" designs. 
Time teaching  
Our clocks come with a step-by-step teaching method that gradually introduces children to different aspects of reading time. The clocks include a detailed instruction manual that guides parents and teachers on how to tell the time, helping parents to effectively teach children to read analogue time. The step-by-step approach ensures that users of our clocks can build their time-telling skills progressively, leading to improved confidence and accuracy. 
Improving time-telling skills with our watches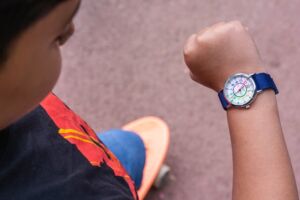 In addition to our wall clocks and alarm clocks, we also offer watches designed to further enhance users' time-telling skills by serving as an opportunity, and a constant reminder, to practise reading analogue time in real-life situations. Available with either the "minutes to & past" method or our 24-hour clock designs, our watches are designed to accommodate the method that your child, or yourself if you are keen to improve your analogue time-telling abilities, prefers.
Our watches, like our clocks, are designed with clarity and simplicity in mind, and our watches feature the same innovative design elements as our clocks, making it easier for children to transfer their time-telling skills. This consistency in learning and practising makes it easier to implement long-term recall and for users to practise their new skills wherever they are. By regularly using their watch to track the passing time, children can learn to manage their daily activities and develop their time management skills. This skill becomes especially valuable as they grow older and face more structured schedules and time-bound tasks.
Whatever your child's style preferences or lifestyle requirements, our range of watches will have the perfect solution. As well as offering the time-telling method that best suits your requirements, our watches also come water-resistant as standard with the option for a fully waterproof watch for users who spend the majority of their time outdoors or engaging in physical activity. Choose the time-telling method of their choice and pair with a watch strap in their favourite colour, or our camo option, for a personalised, stylish daily accessory that encourages your child to actively read analogue time.
Making time-telling fun with our games and resources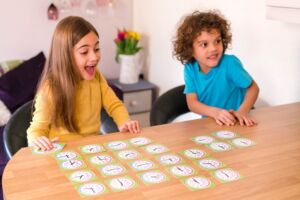 Here at EasyRead Time Teacher, we believe that learning should be a fun and interactive experience. That's why we offer specially-designed time teaching games and resources that go hand in hand with our clocks and watches, making time-telling an enjoyable activity for users of all ages.  
As well as the EasyRead leaflet that comes with our clocks to introduce the time-telling methods we offer, our tell-the-time card games are one of our most useful and engaging resources. The card games allow children, and members of the whole family, to practise their time-telling skills at their own pace at home. The concept of the games is to reinforce understanding through repetition, and the game can be repeated as many times as needed thanks to the 60 playing cards showing 15 different times of day.  
By creating an association with family time and an engaging game, our cards keep children motivated and interested in learning, as well as making telling the time an interesting challenge, rather than a tedious lesson. We take the outdated methods of teaching children how to tell the time and remodel them to suit the requirements of 21st century learning, as well as framing the concept of time in an accessible, easy-to-follow way. By bridging the gap between school, home, and free time, our resources ensure a comprehensive approach to telling time, and encourage users of all ages to develop their time-telling skills and gain a deeper understanding of time and its relevance in our daily lives. 
Overcome how to tell the time struggles with EasyRead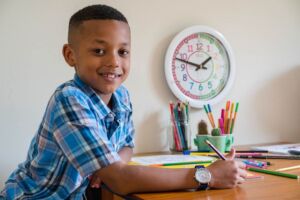 Learning to tell the time on a clock with hands may seem like a challenging task in today's digital age, but with the help of our clocks, watches and games, children and users of all ages can overcome these struggles with how to tell the time and develop a strong understanding of an analogue clock.  
By simplifying the process and making it enjoyable and accessible, our resources empower our users to confidently read time and develop essential time management skills that will benefit them for a lifetime. So, explore our full range today and find the perfect EasyRead support system for your little ones' learning.