As we approach the end of another school year, it's traditionally a time for teachers to think about the resources they will need ready for the start of the new academic year. If you're a primary school teacher or headteacher then anything that can help children with maths skills should come as a welcome addition to your classrooms.   
You may have read about our time teaching classroom clocks and resources recently as our products were featured in an article in Teachwire. This article explained the benefits of placing clocks in prominent positions around school to help children put their day into context – such as knowing how long it is until lunchtime and when they will be going home. A time teaching classroom clock is the perfect aid to help children learn to tell the time and gain confidence in their new found skill.   
You may also have seen a review of our EasyRead Time Teacher classroom set in the Teach Primary Magazine. This review acknowledged the difficulties children can have in interpreting clocks, and summarised that our classroom set delivers a simple and effective way to help children learn to tell the time, thanks to the fact it: 
Breaks time telling into simple steps

 

Uses thoughtfully designed and easy to use resources

 

Effortlessly addresses possible areas of confusion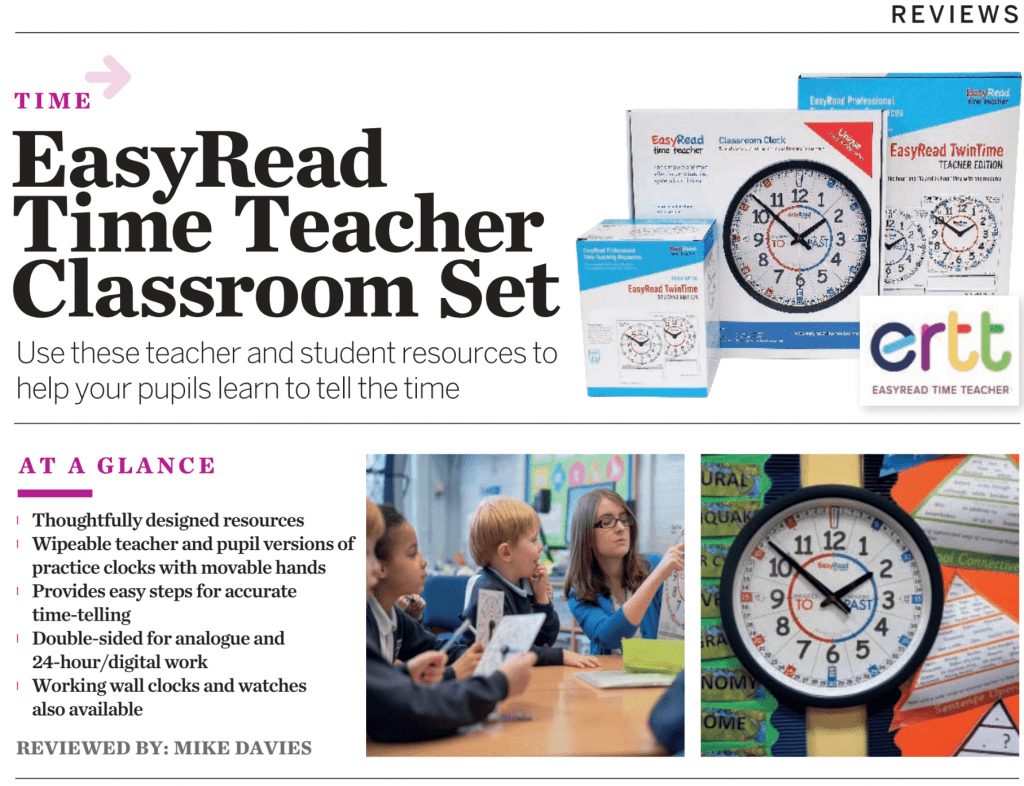 Our time teaching classroom set, which includes one classroom clock, teacher clock card and student practice cards, comes in two sizes and starts from just £85. The teacher and student cards are perfect for teaching lessons about time, as they enable teachers to set a time and ask children to replicate it on their own cards, with space for them to also write in the analogue or digital time. 
The key benefits of our classroom sets are:  
Easy to handle clock face on student and teacher cards with moveable hands that stay where you want them.

 

Sturdy student cards that are difficult to bend or break.

 

Wipeable and santisable clock face on student and teacher cards.

 

Colourful, easy to read wall clock

 
If you are looking to take a straightforward approach with your time teaching lessons from September, or would like a time teaching clock to display on your wall, please get in touch with the team at EasyRead today to talk about our attractive and logical classroom resources and how they can support learning in your school.