There has never been a better time to help your child learn to tell the time as we've just expanded our range of products.  Due to demand, we have increased the range of time teaching watches we offer, to appeal to your fashion-conscious little learners.
New for 2019 are the following products:
Time Teaching Watch with Bright Blue Strap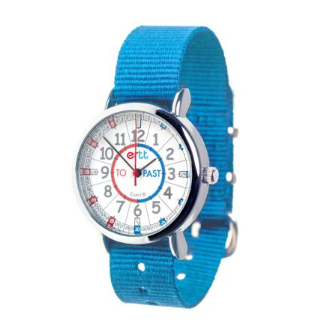 Featuring our popular 'past and to' method of learning to tell the time, this easy to read watch face comes complete with a bright blue strap, which is certain to appeal to both boys and girls.
With a washable strap and splash resistant design, this truly is the perfect companion to any adventure.
Time Teaching Watch with Bright Red Strap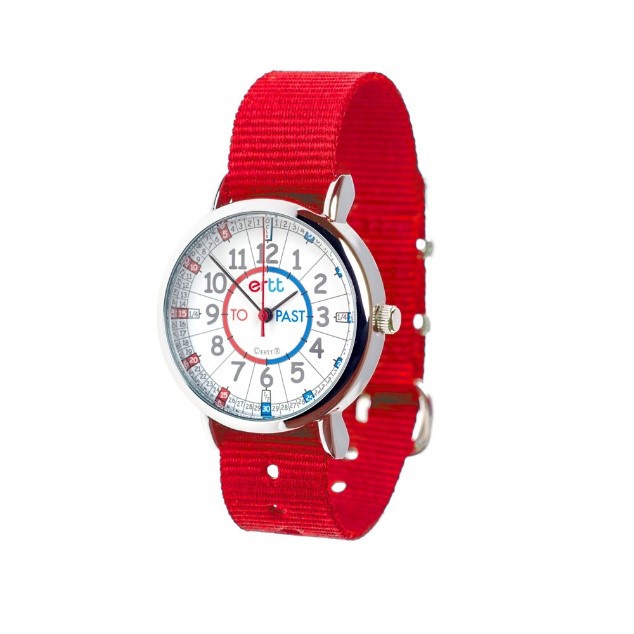 One of the greatest things about having a new watch is when other people notice it.  This new time teaching watch with bright red strap, is sure to make your child the envy of the playground!
Featuring our 3-step 'past and to' time teaching system, which encourages children to read the time in terms of minutes to and minutes past the hour, this watch features a large clear dial to give your child all the detail they need when learning to tell the time.
Rainbow Time Teaching Watch with Pink Strap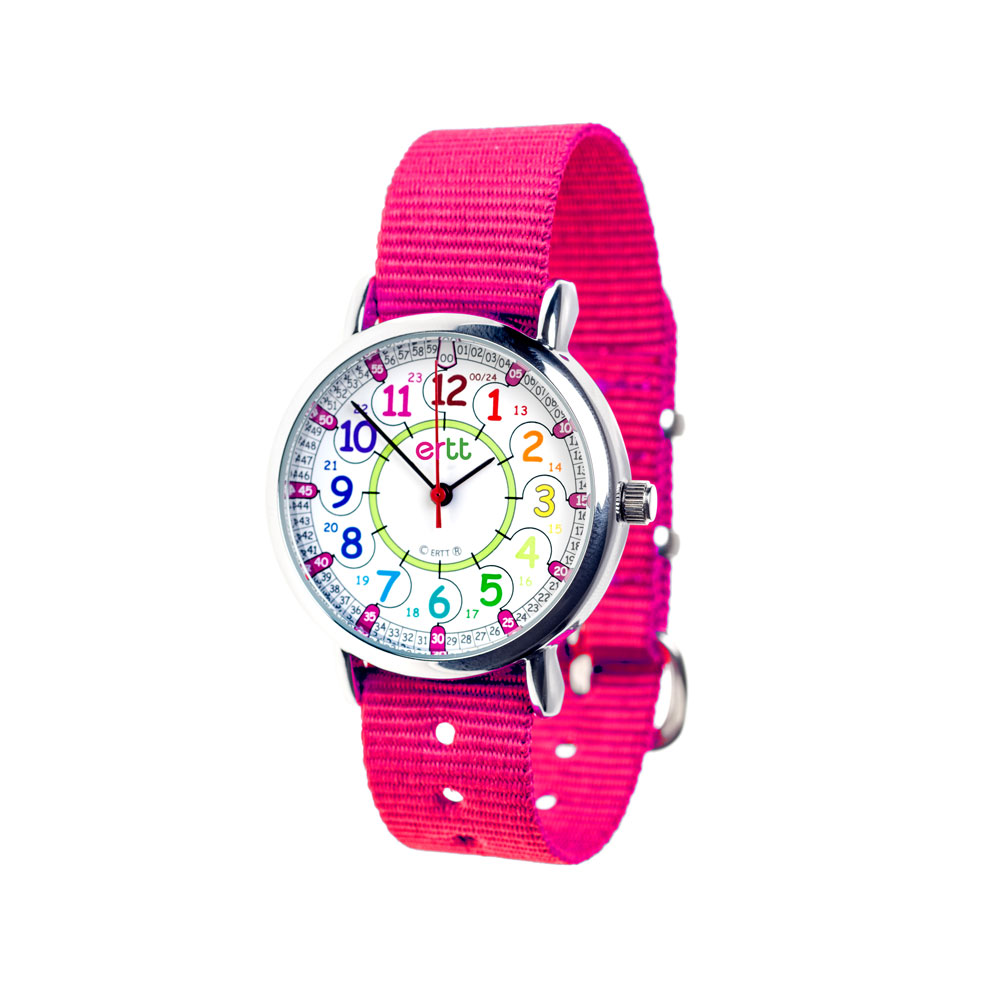 This is the perfect watch for little girls who love brightly coloured things!  Featuring all the colours of her favourite unicorn theme, this time teaching watch uses our 2-step teaching system which encourages children to express the time in the 12 and 24 hour format.
As an added bonus, the face is splash proof and the nylon strap washable, which is perfect for girls who love outdoor adventures.
Rainbow Time Teaching Watch with Lime Strap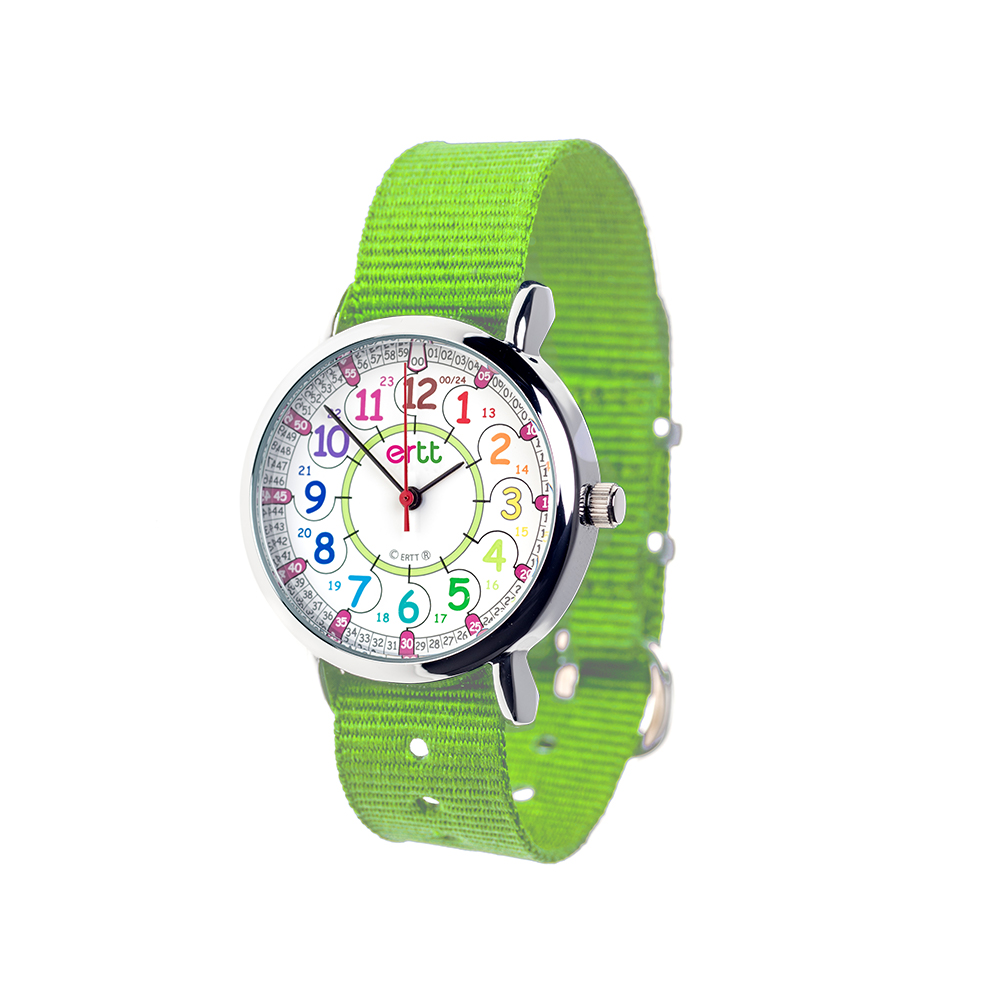 Bringing a distinctly zingy addition to our range, this rainbow time teaching watch with lime green strap is the perfect accessory to help your child learn to tell the time. This watch features our 12 and 24 hour time teaching method and has an attractive, rainbow coloured face.
The green nylon strap fits wrists from 12 cm to 18 cm circumference and can be removed for washing.
What our customers say
We've had some great feedback on our time teaching watch range so don't just take our word for it, have a look at what parents and children are saying about our 'cool' and 'pretty' time teaching watches:
"My son loves this watch – it has really helped him to get into the habit of telling the time and he thinks it looks 'cool' like a stop watch – he refuses to go to school without it."
"Very nice dial on this teaching watch and after going through it with my 7-year-old, she is much more confident in telling the time. She can't wait to wear it to school tomorrow!"
"This watch is perfect for my 7-year-old son who has trouble reading analogue time. Pretty colour. Fabric bracelet of good quality."
"This one is perfect because gives a lot of information on the frame without it being too much loaded. The colours are very pretty and go perfectly with the different bracelets available, delighted with this purchase!"
Find out more
If you'd like to browse our full range of time teaching products please click here or contact us for more information on our time teaching methods.