Whether you're in the classroom teaching time to students or at home trying to help your child or grandchild perfect their time telling skills, games are a great way to aid learning. During the Covid-19 pandemic, when children were restricted to learning at home, games provided a fantastic way to develop new skills and enhance existing ones and this is a principle we hope many parents and teachers will take forward, using teaching time games to make learning fun! 
How do games support learning?
There are many ways in which games can help students to learn, so if you are thinking about bringing a fun element to your classroom or home activities, here are a few reasons why they are such a good idea: 
Games help to encourage student participation.

 

Games make learning more engaging as you have to interact to play the game, meaning it's much less likely someone will get left out or feel disengaged.

 

Playing a game can motivate children and make them more likely to take risks, such as volunteering an answer they are not sure of and wouldn't otherwise have offered.

 

Games can help increase focus and attention, which is particularly useful for children with ADHD.

 

Participating in games can help children's attitude towards learning, boost their confidence and improve grades.

 
With so many advantages to games as part of the learning process, it's time to look at the resources we offer to support classroom activities or help children to learn whilst having fun at home. 
What teaching time games can you play to help children learn?
We've got teaching time games covered at home, at school and even at after school clubs and activities, so take a look at our range below: 
Tell the time card games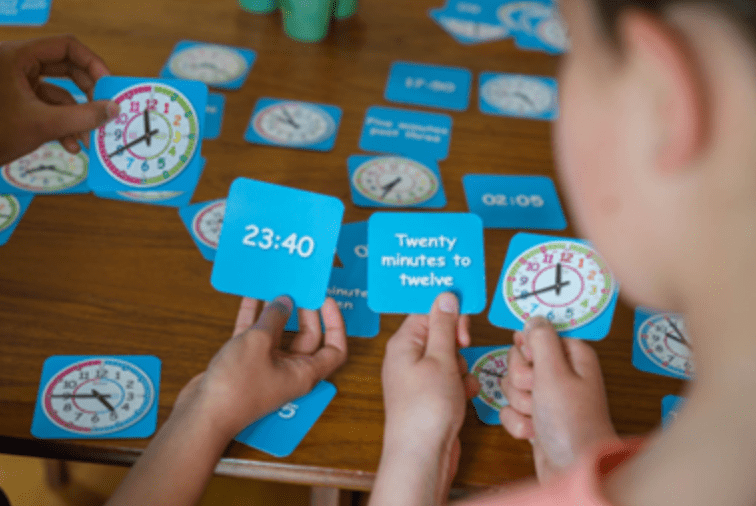 From snap to bingo, matching pairs to buddy-up, there are so many different games you can play with our Tell the Time Card Games, that children will be able to practise their time telling skills without even realising it. 
We've got two different levels of card games – Level 1 for five to seven year olds and Level 2 aimed at eight to eleven year olds. You can order both packs together or just one of the levels, depending on the age of the children you are buying for. 
These card games are very popular with parents and grandparents as fun but educational gifts, and they are also used in schools, after school clubs and children's activity centres. 
Click here to order our Tell the Time Card Games. 
TwinTime Cards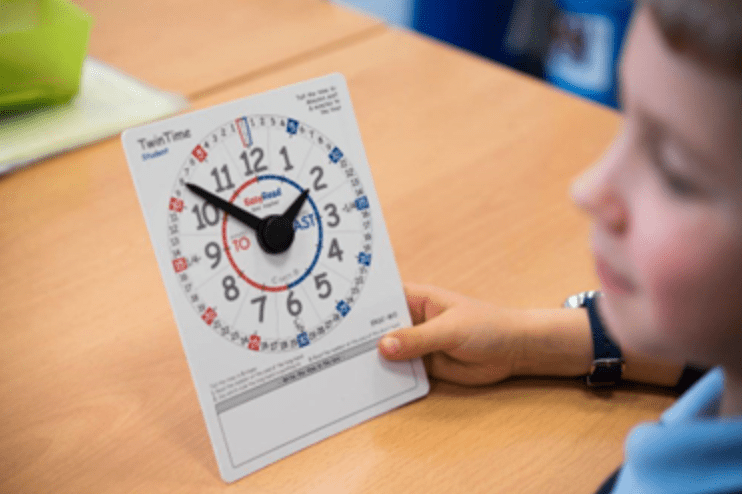 Take our TwinTime cards and turn them into teaching time clock games thanks to the movable hands and PVC wipe clean surface. You can count forwards and backwards, learn fractions, count in 5s and 10s, practice displaying the time and writing it down. Student cards come individually or in boxes of 10 and teacher cards are sold separately. 
Click here to order our TwinTime Cards. 
In addition to the resources we sell, here are a few ideas to play some teaching time clock games at home or wherever you can find a few willing participants! 
⏰Tie time teaching in with your child's favourite activity – and get them to create a chart showing what time of day they do each activity. 
⏰If you have more than one child, make a human clock with one child lying on the floor being the hour hand and the other being the minute hand. 
⏰Set a timer for baking a cake, brushing your teeth or getting dressed and talk about how many minutes you are setting the timer for and how long you have left. 
You could also choose to put a time teaching clock in your child's room or buy them their very own wristwatch, so they can practice telling the time wherever they go. Click here to browse our full range of time teaching clocks, watches and games and make learning engaging, memorable and fun.