Christmas is just around the corner, which means you need to snap up a special gift for your loved ones before it's too late. Unsure of what to buy for them? Why not give the most precious gift of all; time.
Unlike the majority of presents given at Christmas, our EasyRead Time Teacher Watches will provide your child or grandchild with both a fun and educational gift, which they will undoubtedly cherish for a long time.
Thanks to our award-winning watches, which offer the simplest time teaching system for children, your little one will be able to reminisce in many years to come about the Christmas they learnt how to tell the time.
So, we've told you why our time learning watches make an ideal Christmas gift for children, but what are the finer details that make them so special?
Unique Time Teaching System
Endorsed by education professionals all over the world, our quick and effective formula aligns with what your child is learning at school.
Therefore, you can treat your child to one of our watches without the worry of teaching them conflicting methods of how to tell the time.
In addition to this, when your child comes home from school, you can assist them with their learning by using the watch to ask questions about the time. After all, practice makes perfect!
For grandparents, time teaching watches also present a great opportunity for you and your grandchild to bond over something that is going to benefit them immensely in the future.
Add Colour to Your Child's Christmas!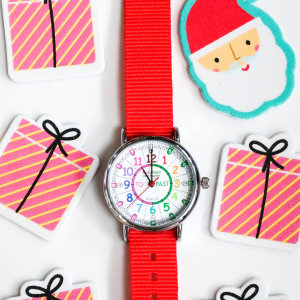 Another wonderful thing about our watches is that they come in a wide range of colours and designs to suit children with different tastes.
Our teach the time watches come standard with a Rainbow or Red & Blue Face, and with one of seven different coloured straps, ranging from Lime to Pink.
If your child's favourite colour changes over time, you can easily customise their watch by purchasing a different coloured strap.
For those children who are obsessed with military and adventure, we also have a Camo version of the EasyRead Watch, which comes with a white or black face.
Waterproof Watches
Lastly, if your child is extremely active and you're worried that they could potentially use their watch around water, you should treat them to one of our highly-durable Waterproof Watches.
With a stainless-steel case and an improved scratch-resistant glass, our Waterproof time teaching watches can be used at any time, anywhere.
Give your child a memorable Christmas this year by gifting them the opportunity to master an essential life skill in a fun and easy way.
To find out more about our watches, browse our collection or contact our friendly team.