From around the time your child starts school, they will begin learning how to tell the time. Not only is this a key part of their primary education, but it also helps them to grasp the concept of time and gives them confidence and independence. 
If your child or grandchild is starting school this year you are probably looking for a kids first watch or clock or to help them tell the time more easily and we've got just the products you need!
Download our latest catalogue to browse our range of tell the time wall clocks and watches, suitable for children from around 4 years of age. All of our products feature our simple time teaching system and can help give your child confidence as they learn this important skill. 
Best kids first watch to learn to tell the time
The best watches to help children learn to tell time are those that make it easy for them to distinguish between the minutes past and to or the hours in a 12 and 24 hour format.   
With our time teaching watches you can choose from our 'Past & To' method or our '12/24 Hour' method: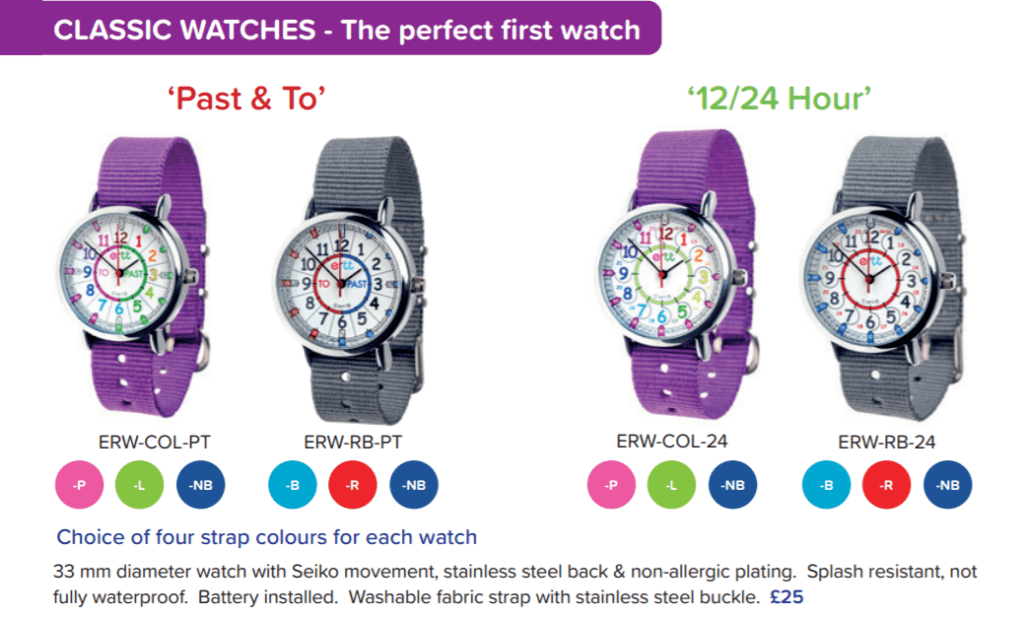 Choose from a rainbow or red and blue watch face and make a choice from our selection of strap colours and your kids first watch is ready to go. 
For urban adventurers, or slightly older children who still need help telling the time but want something that looks a little cooler on their wrist, try our camo watches!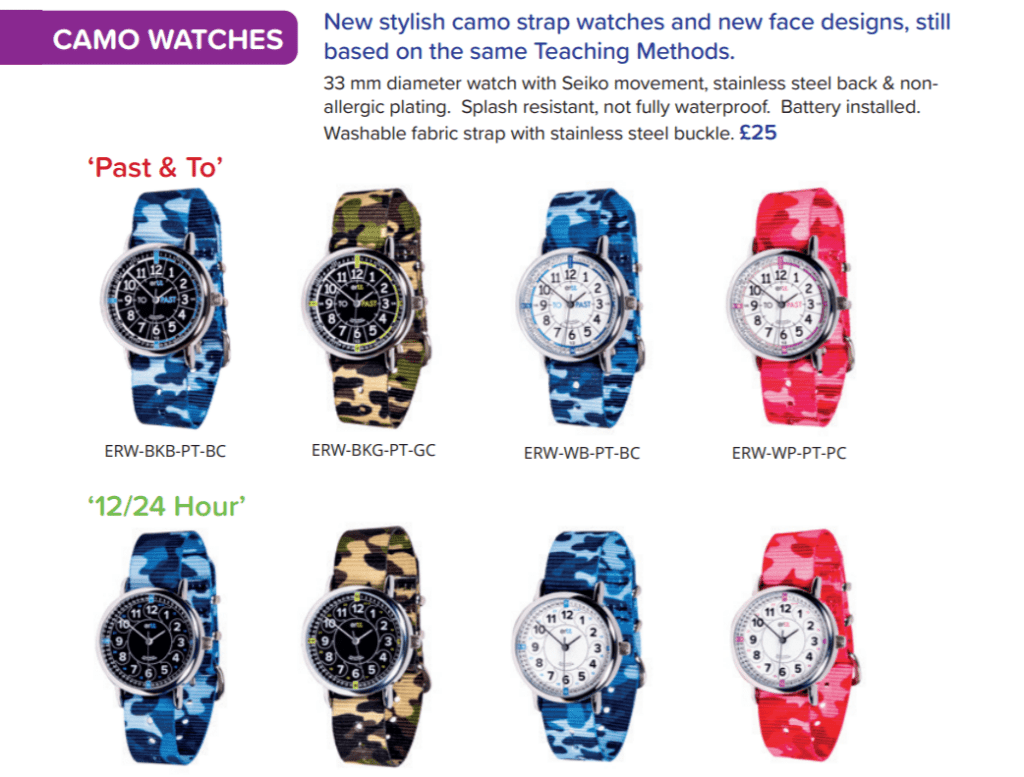 Again, you can choose from our 'Past & To' or '12/24 Hour' time teaching method to suit your child's needs and pick either a white or black face and colourful camo strap. 
The time teaching shouldn't stop just because you're on holiday having fun, so upgrade your child's time teaching watch to a waterproof one ready for summer splashing.  These scratch resistant time teaching watches are waterproof to 50 metres and come with a blue or purple strap: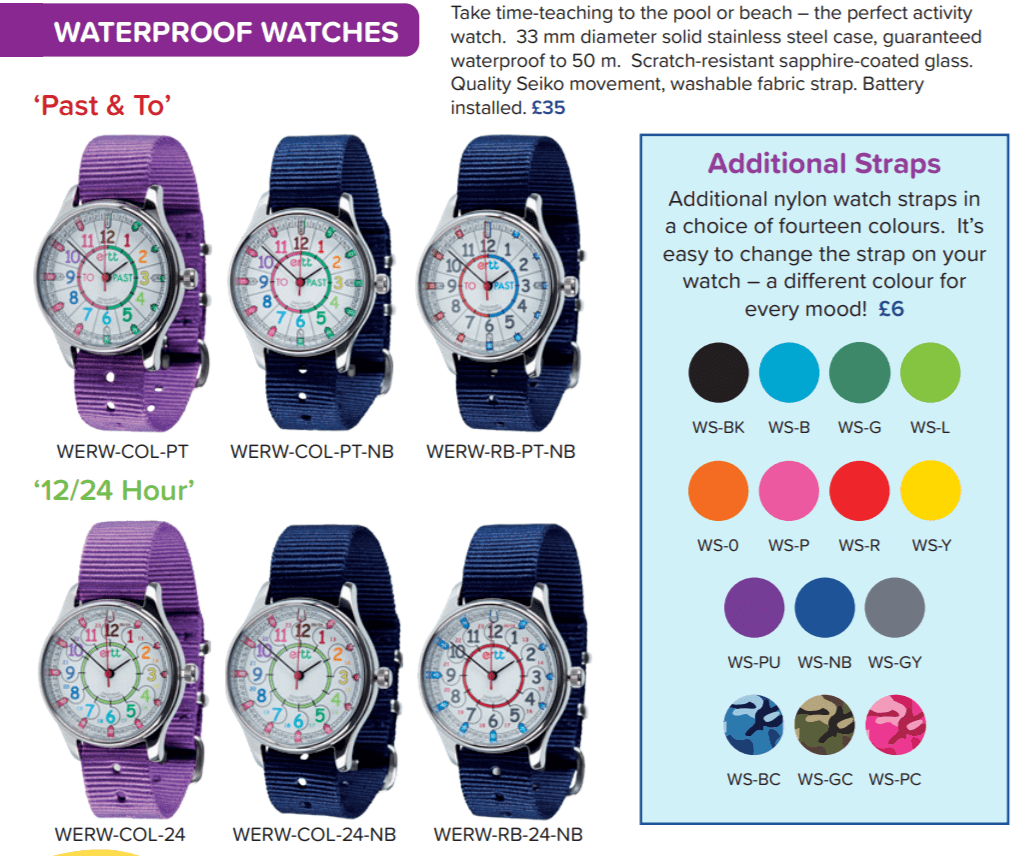 If your child is fixated on another colour, that's no problem as we have a range of additional straps to choose from. With 14 different colours, there's a strap for every mood! 
Best wall clock to learn to tell the time
The best wall clocks to help children learn to tell the time are those that clearly display the numbers so they can be easily recognised from a distance. Our wall clocks feature a clear dial, brightly displayed numbers and of course a choice of our two simple time teaching methods ' Past & To' and '12/24 Hour'.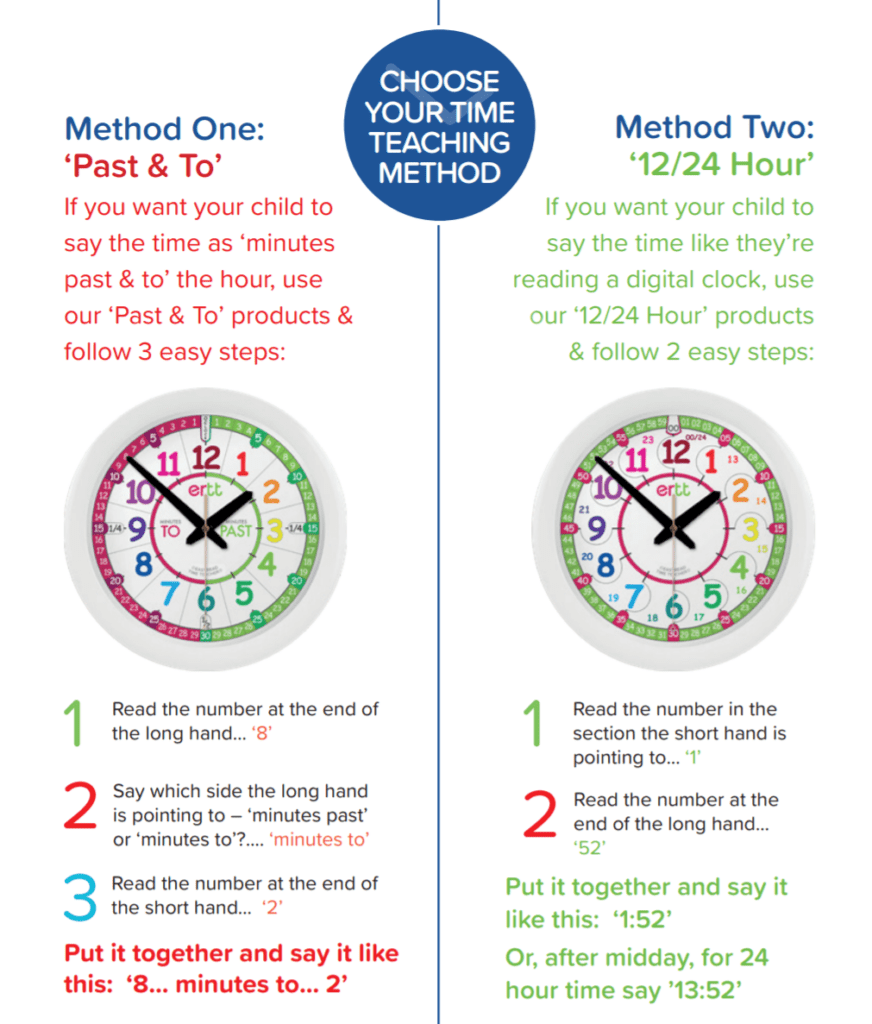 We also have a range of alarm clocks to help children know when it's time for bed and more importantly, when it's time to wake up 😀. 
If you're looking for the perfect kids first watch, or the best wall clock to help the whole family tell the time, download our latest brochure and get in touch with us if you have any questions.